Testimonials & Reviews for 21st Century Riot
If you're like me and prefer to know what other people think before spending your hard earned cash, hopefully these comments from some of our previous clients will be helpful...
21st Century Riot were fantastic. Amazing musicians, great music and made everyone (even the non dancers) get up and dance. Thank you.
Louise Boys, Birthday Party, West Sussex, 08/08/2015.


We couldn't have asked for a more perfect and professional band than 21st Century Riot and our guests loved them! From the first to the last song they had everyone of all ages up on the dance floor, including my 93 year old grandmother who was a huge fan! The guys themselves were lovely and so friendly which made a real difference. We also made some song requests from their set-list which they were more than happy to accommodate which was great - we would recommend anyone to use 21st Century Riot to ensure an amazing time is had by all!
Clarissa & Matt, Wedding, Elmore Court - Gloucestershire, 25/07/2015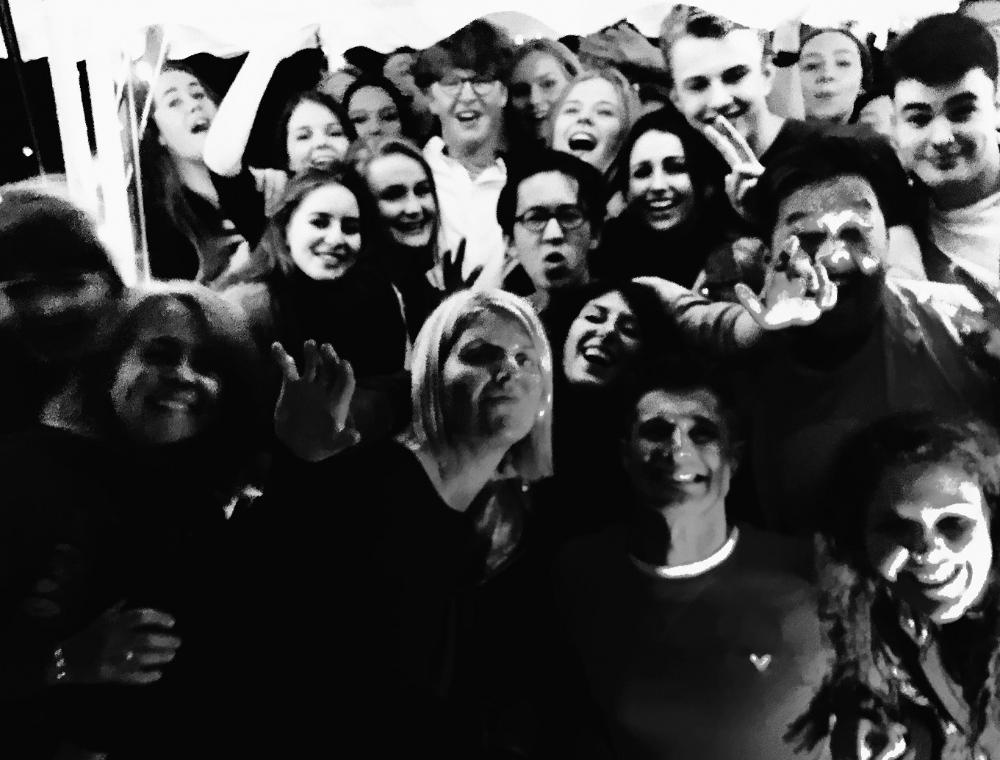 21st Century Riot were fantastic! The guys were really friendly and professional in every way so that everything was done smoothly and efficiently from setting up to clearing away. The sets were fantastic, great songs expertly performed. It was a really full, tight sound with great guitar riffs, excellent vocals and a beat to make the urge to dance impossible to resist… just what we were looking for! It was my son's 18th and the 150+ 18 to 20 year olds loved the music as much as the '40-something' contingent. 21st Century Riot are a really class act… we couldn't have been more pleased.
Jo Mason, Birthday Party, North Yorkshire, 20/06/2015
Professional, flexible, fun and totally unique!If you want a successful party you need 21st Century Riot – it's as simple as that!!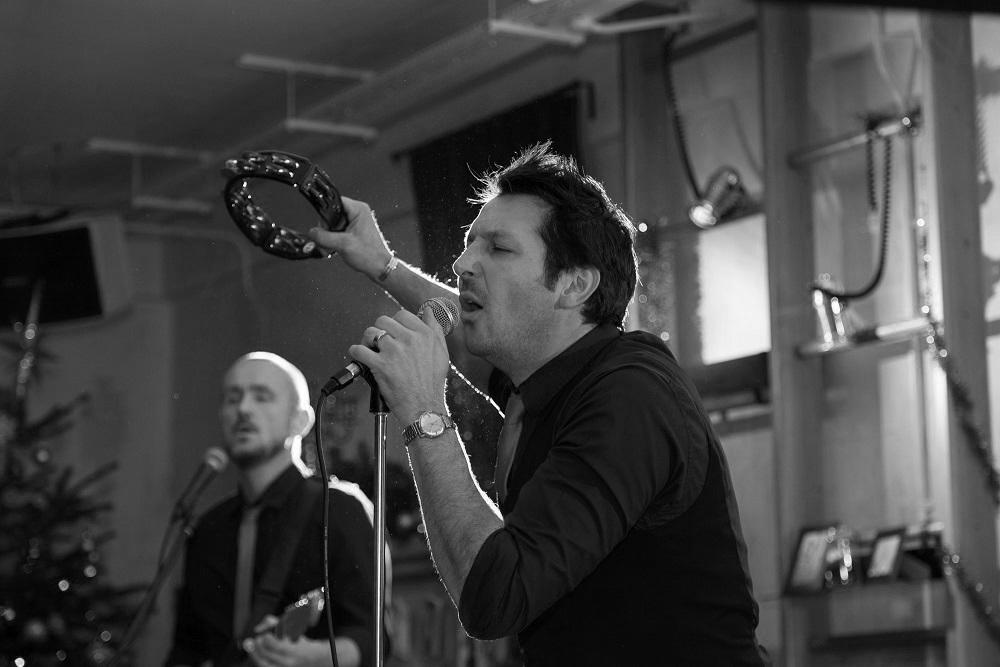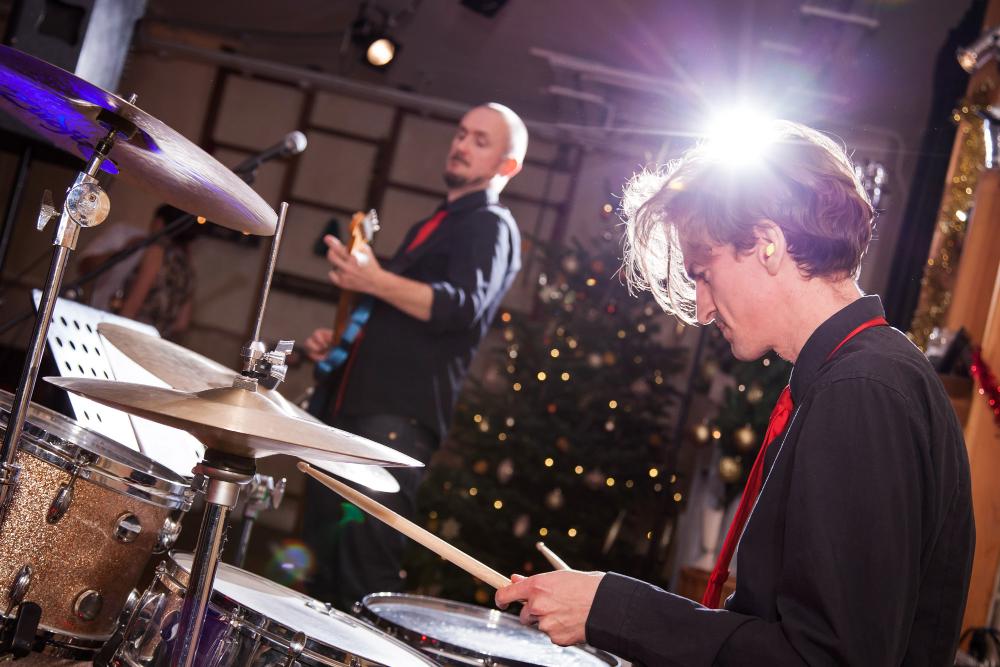 Leonora Taylor, Blackbaud Christmas Party, London, December 2014

Hi Helen,
I have had nothing but praise and positive feedback regarding 21st Century Riot. They kept everyone at the event on their feet on both of their sets. They were really good and I will be recommending them to all my friends.
Can you pass on from all the members and guests of the Sergeants' Mess 4 RIFLES, a big thank you for entertaining us.
Kind regards,
Grayham.
WO2 Grayham Henry, Sergeants' Mess 4 RIFLES Wiltshire, December 2014
Hi Helen,

Jay and the band were really, really incredible. I honestly cannot say enough good things about them on the night (and beforehand too!).
We loved their play list, their whole energy and they just sounded great. I want to get the video back so I can listen to snippets of them playing again.
Helen, thank you so much for all your help all the way through – it's been amazing working with you and I cannot tell you how much we appreciate it! Our day was so incredible – we just want it all over again.
Best wishes,
Lisa.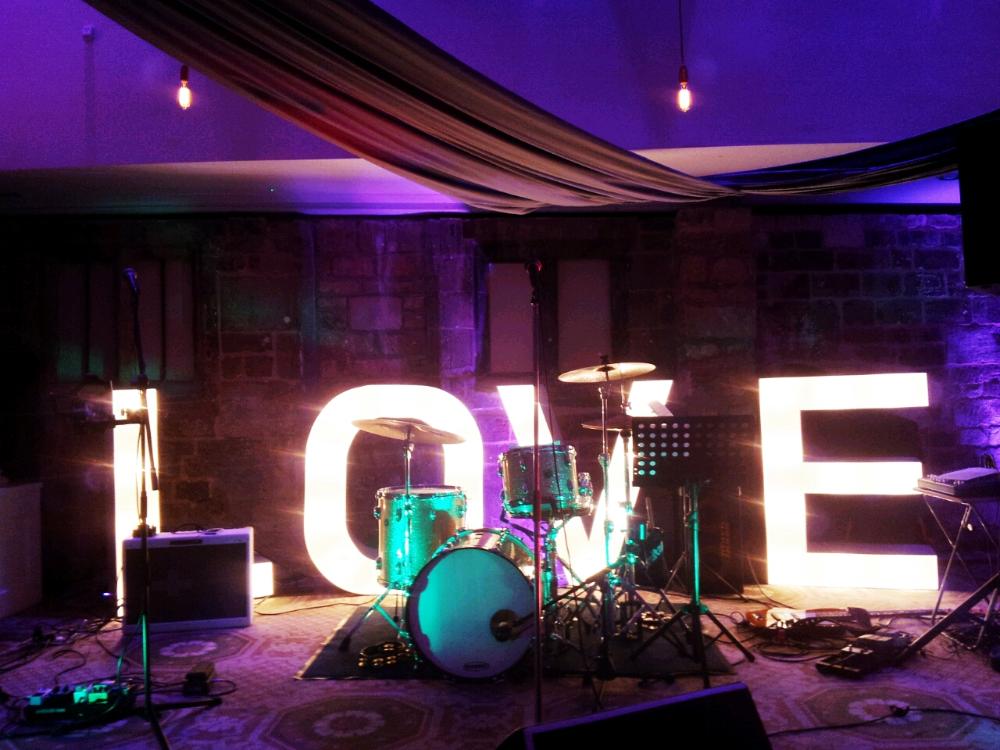 Lisa Adams, Wedding, Cheltenham, November 2014.

Hi Helen,
I must say what an amazing group 21st Century Riot are, everyone who attended commented on how good they were and asked how I'd found them.
Many thanks once again for making the night what it was, totally brilliant.
Kindest Regards,
Trev.

Trevor Johnson, Birthday Party, West Sussex, October 2014.
Hi Helen, 
Wow what a band! I cannot say enough how fantastic they were. Absolutely every guest commented on how fantastic they were. Absolutely made our wedding! 
Can you please thank them all for me. Wonderful!!!
With love and best wishes
Cathy xxxx.
Cathy Hudson, Wedding, Suffolk, September 2014.
Hey Helen,
Thank you for getting in touch. It really was a perfect day. From the acoustic trio to start things off, through the entire evening the music was fantastic.
We really want to thank you guys for being so flexible with the schedule for the evening as I know it was an uncommon format. Everyone we spoke to, of all ages, raved about the band. Rachel and the guys really tied the night together creating the perfect tone throughout and really understood the kind of music we wanted.
Thank you for the great night and we'll pass on any photos we get.
Becca and Adam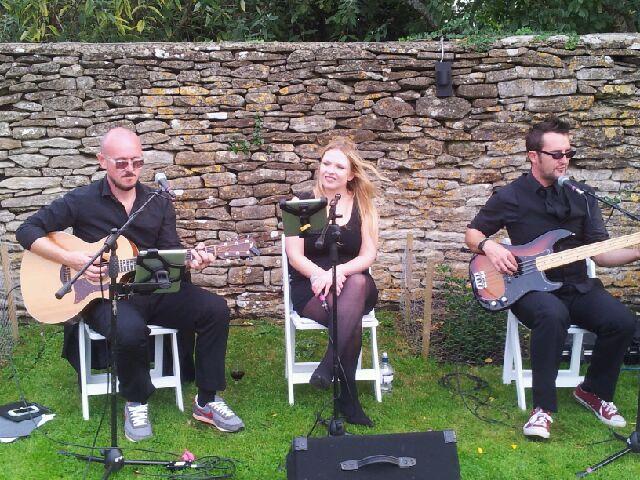 Becca & Adam, Wedding, Gloucestershire, September 2014
Hi Helen,
Thanks so much for making my party so memorable!

The band were great, really accommodating and kept the floor filled the whole night. They looked like they were having a great time too which helped. I've had loads of complimentary comments.
I wouldn't hesitate an instant in using you guys again.
Best regards to you and the guys, Ray.
Ray, Birthday Party, London, September 2014
Hi Helen,
Well, 24th August was our big wedding day and there was no decision or argument to be had, we had previously booked 21st Century Riot for our double 40th and they were brilliant even for a VERY mixed crowd. Once again they were very committed to travel to deepest Devon on a bank holiday, get the atmosphere right on the night and play hard. We had the best night of our lives, kicked our shoes off and danced for the happiest marriage. Thank you Jay and the boys for another great gig and our mates are stillllllll talking about you!
Here's to your great talent, rock n roll and from us both an enormous thank you!
Ruth and Matt.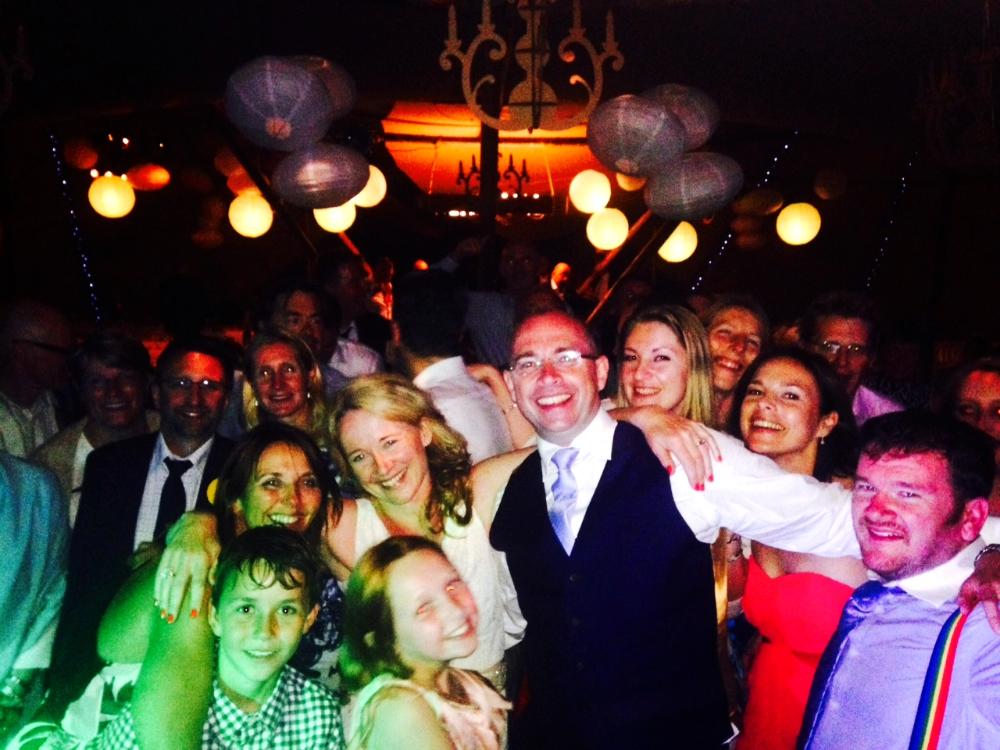 Ruth Baily, Wedding, Devon, August 2014
Hi Helen,
I was really really happy with the band - thank you. Everyone said how great they were, they created such a great atmosphere and the dancing was a highlight of the day!
Thanks again, Rose.

Rose & Ben, Wedding, Port Talbot, August 2014
Hi Helen,
The band were A-MA-ZING, incredibly professional, very polite and completely rocked our wedding!! It was a truly great day and night, and they certainly played a big part. The dance floor was more or less packed for the whole night, particularly during the second set. They even got heckled into one more song! They played the event perfectly and we have had so many positive comments about the bands performance.

We probably paid a little more than we had originally budgeted, but it was entirely worth it. It was a real highlight of the wedding to see so many people up on the dance floor having such a great time.

Tom
p.s. thank you for the photo - it's the best one I've seen of Fiona and I yet!!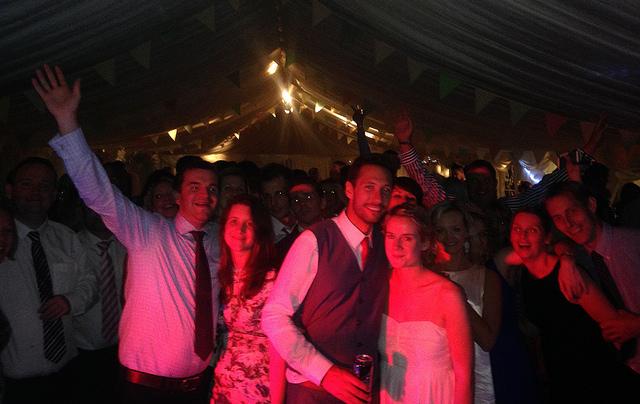 Tom & Fiona - Wedding, Buckinghamshire, August 2014

Hi Helen,
I just wanted to say how over the moon we were with 21st Century Riot - they were FANTASTIC and we loved the first dance. We cannot wait to hear them again on our wedding DVD when we get it.
We had lots of people asking us who they were and people have been raving about how good they were so thank you to them for making our day so special. We would consider using them again in the future and I would definitely refer them on to anyone looking for a good function band.
I attach a few photos - they are not the best but do show that we had a ball on stage. The band were so good!
Thanks, Sam.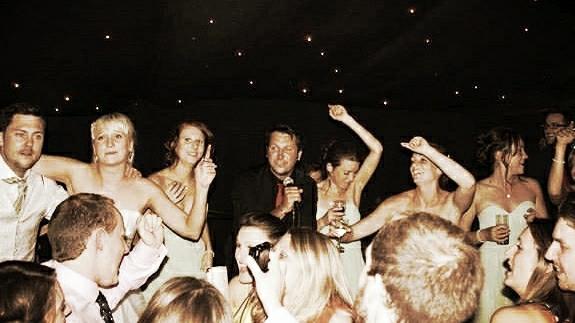 Sam & Ash - dancing with the band! Wedding, Suffolk, July 2014

Helen,
I would just like to pass on our thanks to 21st Century Riot for a great performance on Sat 28th June at Stirling Lines (Hereford).The band was extremely professional, very talented and demonstrated great flexibility as the event unfolded and last minute changes were made. Thanks again.
Regards,
Chris Rowan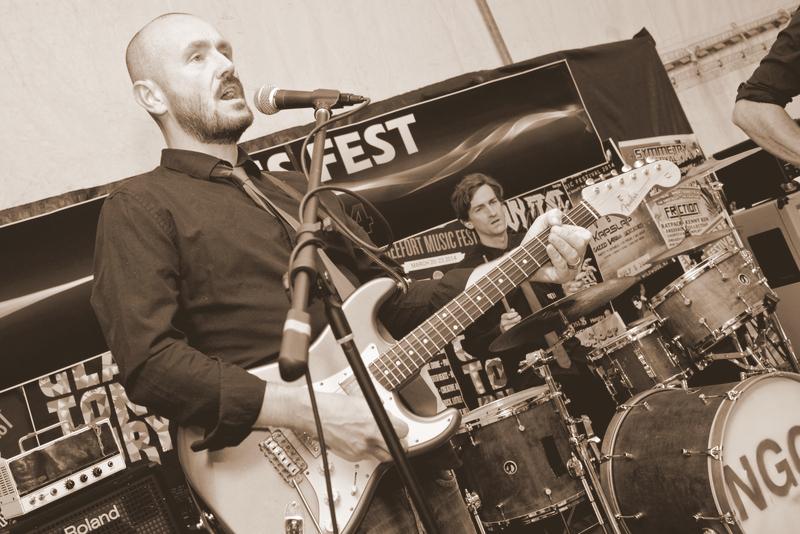 Chris Rowan - Ministry of Defence, Hereford, June 2014
Hi Helen,
Just back from honeymoon, had a wonderful time, thank you!
I was going to write to you anyway as we would like you to pass on a huge THANK YOU to the band.

The band were absolutely fantastic! They played our first dance perfectly and really got our party started and kept if going until midnight! They played all our favourite stuff and our guests loved them. I wouldn't hesitate to book them again and will recommend to anyone who asks. Hope I get to dance to their music again sometime soon! Huge thank you from us!

Thanks for helping make our wedding party amazing.

Very best wishes,

Katherine

Katherine Burrell - Wedding, Surrey, May 2014
Hi Helen,
Jay and the guys were brilliant – played some great music and chose songs that appealed to everyone. Even my Dad got up and danced.
Many thanks to all of you for helping make the day extra special.Hopefully we'll get to see the guys the next time they play.
All the best, Andy
Andy Smith - Wedding, Surrey, May 2014

Hi Helen,
One of my tasks on our return home was to contact you!
We had a fantastic time, best wedding I've ever been to, but then I am biased!
Thank you Helen for the detailed planning that went into organising the evening.
As for the band, wow, they were brilliant! They really made the evening. We all loved the choice of music and the fact that the band seemed to be enjoying playing too. The bride and groom were absolutely delighted and I breathed a sigh of relief, as it was my idea to ditch the disco! From the very first number the dance floor was full. I would also like to mention the band's professionalism and the unobtrusive way that they arrived, set up, and disappeared when not playing. We also really appreciated the music in between the sets - great choices. It was all over too soon! 
I would happily recommend 21st Century Riot to anyone wanting great quality music from four great guys. 
Thank you all so much for making the evening so special.
Chris

Chris Chalmers - Groom's Mother, Wedding, Henley on Thames, May 2014
A last minute decision to add a little music at this event was solved by Riot Unplugged's arrival, their amazing voices and talented skills added the perfect atmosphere to this wonderful party. The birthday boy had a fear most wouldn't dance however one familiar song after another led to the floor being filled. Thank you so much for providing such wonderful entertainment for this special birthday and I have had nothing but praise following. I look forward to welcoming you all back soon.
Frances Edwards – Senior Private Dining & Events Coordinator, Carlton Club London, April 2014
Hi Helen,
Just wanted to drop you a quick note to say how amazing Jay and the boys were last night.

One of my lasting memories of our wedding will be watching my (new) 72 year old mother in law dancing like a crazy teenager to some Rolling Stones - not bad considering she had a knee replacement only 6 months ago!
Unfortunately quite a few of our guests flagged after the evening buffet and didn't quite last through to the bands last set, but the guys kept the energy up for those of us still on our feet and closed the night out on a definite high.
Everyone this morning has said to us how good they thought the band were and how much they loved the music they played.
Please pass on our thanks to the guys once again and our thanks to you for helping to arrange everything.
Simon & Lisanne, Wedding, Kent, February 2014
I just wanted to take this opportunity to say a massive thank you for the entertainment that you supplied for our Mess Christmas Ball.
21st Century Riot are without doubt one of the best bands that I have heard. The variety of music that they played struck a chord with all members of the audience, with it ranging from the 60's through to modern day, with of course the obligatory Christmas songs. The dance floor always had people on it.

Rachel (DJ) was also superb with her song selection, in order to keep the tempo up and people on the dance floor. She was also very accommodating in playing people's requests.

I look forward to working with you again.

SA Scott SSgt, WOs & Sgts Mess Christmas Ball, Hampshire, December 2013
Hi Helen,
We had a superb time on Saturday night and I wanted to say thanks to Jay and his band for their slick performance. The mix of music had the guests up and dancing straight away and we have had some great feedback from guests who had a great time.
We would certainly contact you again to perform at our parties.

Kevin Burnett-Whalley, Ericsson Christmas Party, Hampshire December 2013
Absolutely fantastic a real crowd pleaser, Riot Unplugged are professional in every aspect along with being very friendly people. We have used them a few times and have had many ask when they are returning, I would not hesitate in recommending this band, amazing musicians and an excellent vocalist.
Sands at Bleak House, Woking, September 2013
Hi Helen,
We just wanted to feed back how amazing we thought 21st Century Riot were when they played at our Post Wedding Party last night. Their version of Elbow's 'One Day Like This' for our first dance was so special, totally brilliant and we loved it. The rest of the songs throughout the evening were just as great and we loved them all, a great mix of oldies and newbies. We have had so much positive feedback from our guests, from young to old everyone has commented on how great the band was,even the hotel bar staff said how good they were and that they were one of the best bands they had seen. The evening flew by and we just wish they could have played all night too and we would definitely book them again if we get an excuse.
Many thanks to all of the band members and to yourself for making the whole process, from start to finish, go so smoothly and for being so helpful and flexible, really nice bunch of guys :)
Karen & Michael, Wedding, Cambridge, August 2013
We would very much like to thank the band members for their contribution to the celebration.
The music was enjoyed by all and helped make our day. A very professional approach and a very nice bunch of guys. Loved the music!Thanks again.
Sue & Chris Clark for their daughter's wedding celebrations, Cambridge, June 2013
Dear Helen,
I just wanted to say a big THANK YOU to the band for a fabulous performance at our 50th Birthday celebrations!We thought they were brilliant and we've had fantastic feedback from our guests who all really enjoyed their performance and raved about them and they kept the dance floor filled until the last minute. 
We didn't want music that was going to make us feel "old" and they had just the right mix of current, classic and a few oldies for the occasion.They were very professional and efficient and just arrived and got on with setting up so they were ready before everyone arrived.Jay was brilliant and stayed as late as he possibly could to keep the music going after the band had packed up.The guests were still begging for more as he left!They seemed a thoroughly pleasant bunch of guys who certainly made us feel they were enjoying the gig as much as we were.Thank you.
Charlotte & Julian Tompkins, Henley on Thames, 50th Birthday Party, June 2013
The guys were brilliant. They effortlessly arrived, got everything set up, queued up the playlists, started no problems, rocked the joint, played a few extra numbers, allowed some of the gang rap on their equipment (!) and were a huge hit with the guests. We were really impressed with how tight the band was, the breath of the repertoire and the real energy they put into it.
Thanks again for all your work in the run up and for helping making it a great night.
Joe McCarthy & Nicola Carnegie, Wedding, West Sussex, June 2013
Regarding 21st Century Riot, our feedback is all very positive. The band were fantastic live- whilst the video on-line was good, it doesn't really do them justice. The quality of the sound & their performance was excellent. Their choice of songs was also just right, as was their interaction with our (occasionally slightly mad & inebriated) guests! They got everyone dancing and created a great atmosphere.
Probably the best sign is that many people (including the discerning music lovers amongst the guests) told me later how much they had enjoyed the music & asked me who the band was/ how I had found them. 

The DJ was also great at maintaining the tempo & atmosphere. She did a great job of finding the spanish language tracks & mixing them into the night. But at the same time she adapted in order to keep everyone on the dancefloor.
Everyone was very flexible considering that the music started an hour later than planned & that they were interrupted for a few unexpected hiccups. We really appreciated therefore that everyone stayed until 1am and were still there packing up when we left. They were also great at checking with me if we wanted to stick to the original plan given the delay, how we wanted the music for the bouquet/ garter throwing etc.
All in all, everyone was excellent & topped off a great day. I would happily recommend the band & the DJ for anyone's event.
Anya Revans, Wedding, Surrey, May 2013
Just a quick note to thank you for the effort you put into arranging for Saturday just gone and a huge thank you to the band members who were absolutely fantastic.
Everybody had a great night.
Thanks again.
Phil Rogerson, Private Party, Lancashire, April 2013
We wanted to thank the band for their amazing performance at my party last month. They arrived early so there was plenty of time to set up and give us the chance to say hi before we got ready at home.  We wanted the sound level set so people could still chat in the corners and your sound engineer was very helpful in respecting our wishes.
The music was outstanding! Loads of people were giving compliments on the night and we've had lots of phone calls too, saying how much everyone loved the sound and authenticity of the band. We spend the whole evening dancing and the party was still going strong right up until the end.  

We were delighted with the playlist and found your communication beforehand very helpful in selecting the music. The ipod sets too were great - all my favourite songs one after the other. And the lighting made the room look lovely.  

All in all, the band made the evening a true success, thanks!

Michelle and Mike, Private Party, Hertfordshire, 2012
Just to let you know how WICKED 21st Century Riot were yesterday… They were such a nice bunch of boys and performed so well, were entertaining and super professional. I would recommend them to anyone and will so.
Hope to be able to use them again soon, thanks for everything. X
Emma Pineiro, Events Director, London, 2012
Maria, the guests and I thought that 21st Century Riot were simply awesome. They hit all the notes, played some of the best contemporary songs and did justice to some old rock classics. Sound quality excellent.
Maria Plunkett, Private Party, London, 2011
The day went very well and we were both delighted with everything, including 21st Century Riot. Many of our guests commented how good they were.
One couple at our bash had met 47 years ago (on the 19th June) and their first dance had been Walk the Dog by the Stones. The band were asked if they could play it which they could not - at the time they were asked. The band went for their break and, when they came back,they had learnt it. The band played the song and the couple did the very dance that they had 47 years previously - what a fantastic thing for them to have done. It made such an impact and the band have my utmost respect for going out of their way to make it happen. The guys were absolute stars.

Chris Evans, Wedding, Surrey, 2011
I just wanted to say thanks so much, firstly for persuading me to go with it, and of course to the guys for a truly amazing performance. They really were absolutely superb, fantastic performance but also so very professional and got it just right, you could see the sound, lights, mood and everything was being tweaked all the time. I was so worried we'd gone a bit long for such a small do, but they were totally relaxed and played brilliantly, they were perfect for us, they even looked like they were enjoying themselves :-)
At one point I looked up to see the whole place literally jumping up and down. It was certainly a rocking night and one to remember. 
So, a heartfelt thank you, and if you're planning any public gigs please do let me know as we'd love to see them again. Sophy x
Sophy Thomas, Wedding, Surrey, 2011
21st Century Riot were fantastic!! Please pass on my thanks to them. I have had lots of positive feedback from people over the last couple of days. Everyone thought they were brilliant. I can only say that from my end, things went very smoothly. I didn't notice that there were any issues with setting up, timing etc. they were great.
Thanks again, Sarah
Sarah Foster, Private Party, London, 2010
...yes thank-you, the event went well; the feedback has been very positive, so thanks to all.
I have to say that all of them are extremely polite and pleasant people to deal with and that it was a great pleasure to take care of them.
Contraband International Ltd for Nespresso in Zurich, 2010
I spent wonderful time with guys - the show was very-very positive and the customer is really satisfied.
Alexander Burtashov, Scholz Artists, Russia (Jamesons Whisky), 2010
We were very pleased with 21st Century Riot's performance. I was nervous of being in charge of booking the band for an important corporate event but they were brilliant and everyone enjoyed the performance.
I was very happy with the services provided by the band. I have had lots of positive feedback on their performance from our guests. We are very pleased with how our event went and would be happy to use the band again in the future.
Vicky Beacham, Kensey Foods, 2010
The band ROCKED! Absolutely top notch. Sounded great. Looked great. Was a huge contributor to the successful party and need to make sure they stick together as they are playing at my 50th again :-) Thanks for organizing, and please make sure the band gets the above feedback!!
Lena Johnson, 40th Birthday Party, London, 2009